The battle for the final spot in the Western Conference playoffs is now down to Memphis Grizzlies and Portland Trailblazers. Memphis Grizzlies beat Milwaukie Bucks in their final match-up to place 9th seed, whilst the Trailblazers are 8th seed after their narrow win against Brooklyn Nets.
The play-in scenario will see the number 8 seed take on the number 9 seed. In order to determine who makes it to the playoffs, Grizzlies will have to win two games against Portland Trailblazers. Portland on the other hand will need to win once to advance. Whoever wins plays with the number 1 seeded Los Angeles Lakers. Which team is your favourite to win?
The post Time For NBA Play-In appeared first on GBAfrica.
Follow Glitz Empire across our social channels, on Facebook, Twitter and Instagram
Share your views in the comments below Click & Join Our Telegram Channel
Vogue editor Edward Enninful is set to marry his long-term partner Alec Maxwell this month
Vouge editor Edward Enninful will reportedly stage what's described as the A-list event of the year when he marries his long-term partner in a lavish star-studded ceremony at Longleat House.
According to Daily Mail, the Ghanaian magazine chief will tie the knot with his film-maker fiance Alec Maxwell on his 50th birthday later this month.
According to the reports, three hundred guests, including Leonardo DiCaprio, David and Victoria Beckham, Kate Moss and fashion designer Donatella Versace, are expected at the stately home in Wiltshire that boasts a 9,000-acre safari park famed for its lions.
Supermodel Naomi Campbell, who had a well-publicised falling-out with Mr Enninful, a friend for 30 years, is expected at the wedding later this month after they settled their differences.
The Vogue supremo also counts Kendall Jenner, Cara Delevingne, Orlando Bloom and US models Gigi and Bella Hadid among his close circle, leading to speculation that they may also join the guest list.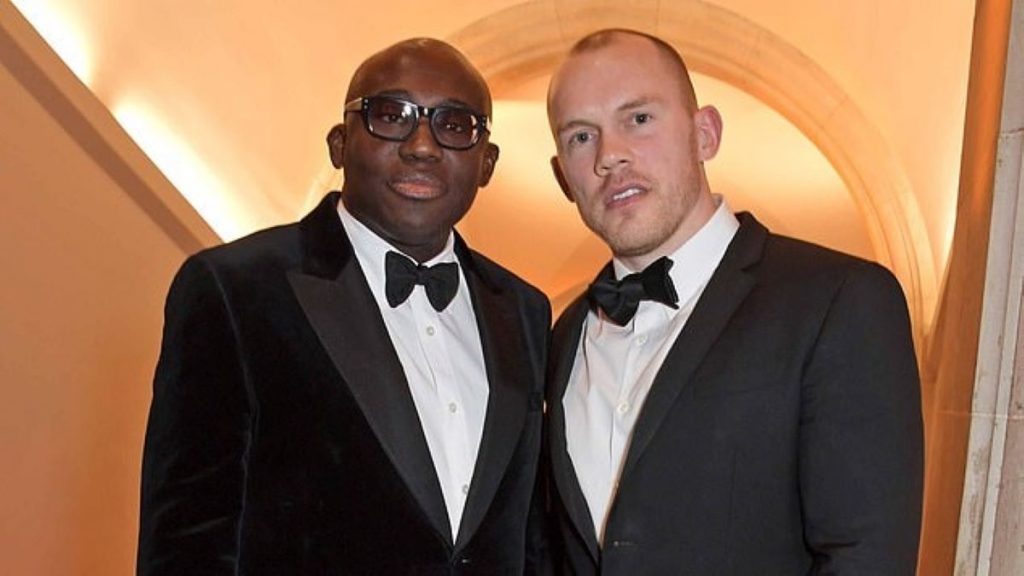 Supermodels Eva Herzigova and Irina Shayk are also expected to be invited, but it is not known if Dame Anna Wintour, Vogue's editor-in-chief, will be there following rumours of tension between Mr Enninful and her. Some believe he may invite her if only to scotch further rumours of a rift.
It is believed that Mr Enninful's close friend Emma Weymouth, the Marchioness of Bath, has given him the use of Longleat where she lives with her husband Ceawlin Thynn, the 8th Marquess of Bath.
The model and socialite, Britain's first black marchioness, is a contributing editor to Vogue and is regularly seen socialising with the fashion magazine's staff at swanky restaurants in London.
Mr Enninful and Mr Maxwell, who live in West London, are expected to bring their beloved black-and-white Boston terrier Ru to the event for a double celebration that will also mark the Vogue editor's milestone birthday.
'This is going to be the wedding of the year – there will be no expense spared and no detail ignored,' a source said.
'Edward is one of the best-connected people in Britain, and across America too, so expect super-famous guests. People are already saying you won't see so many A-listers in one room ever again.
'Edward appears to have saved some money on the venue as he is thought to have been given it by Emma Weymouth as a wedding present.
'Edward and Alec have been wanting to marry for some time and Edward's 50th birthday seemed such a special day to do it.'
Last month, Mr Enninful and Mr DiCaprio were seen shopping together on the Caribbean island of St Barts, where they were holidaying with their partners.
They worked together when the Vogue boss was a fashion stylist.
In an interview in 2019, Mr Enninful confirmed that he had proposed to Mr Maxwell, whom he met at a party 15 years earlier.
It is not known if Dame Anna Wintour, Vogue's editor-in-chief, will be there following rumours of tension between Mr Enninful and her
'Over dinner I just asked if we should get engaged. We'll marry eventually – there's no rush,' he said then.
The journalist also revealed that he would like to be a father.
Trowbridge Register Office confirmed last week that Longleat's licence to carry out weddings had been renewed and that Mr Enninful and Mr Maxwell would be among the first couples to hold their weddings there, this spring.
A spokesman for Mr Enninful last night declined to comment.
Follow Glitz Empire across our social channels, on Facebook, Twitter and Instagram
Share your views in the comments below Click & Join Our Telegram Channel
"Ghana is so peaceful & their police officers are cool. We want to relocate" – Nigerians cry over insecurity in their country [Read]
Nigerians are showering Ghana with praise and applauding the professionalism of the Ghana Police Service and the relative peace and safety in the country.
According to them, Ghana has carried itself about with decorum which is manifested in the way police officers treat civilians and the peace the citizens enjoy.
The words of admiration from a cross-section of Nigerians online comes on the civilian protests that have hit many parts of Nigeria, where citizens are demanding for an end to police brutality.
Many Nigerians believe they feel unsafe in their country and will like to relocate to Ghana. Many share their experiences about Ghana and wish to be citizens of the small West African country.
#EndSars is the hashtag Nigerians are using to express their displeasure at the high spate of impunity and intimidation meted out to citizens by the Special Anti-Robbery Squad of the Nigeria Police Service.
Read Some Views Of Nigerians On Ghana Below:
@MissSorinola wrote: Very true you can be out in gh as late as 3am and Still feel veey safe even as a lady.

@DoyinSoExtra wrote: Guyyyy, it meant so much. Nigeria Police would have extorted money from us, they would have lied against us at that time or threaten to shoot us and nothing will happen. They are evil

@EzinemPriase wrote: You hardly notice any police in ghana,they come out when necessary,they aren't every where constituting nuisance and collecting bribe

@OriginalHarriet wrote: Even their military is amazingly calm and polite. Their uniform men are awesome and what beats me is how they so much respect their law protecting women. It's a crime to touch a woman in ghana no matter what and every1 respects that. D world left 9ja behind oh

@FearlessRobot_ wrote: Ghana police will see you walking with your girlfriend at 2am and salute you. They will even tell you. " Chairman, you do all." Some will even tell you to use condom. Especially if they suspect you walking with a sex worker.

@Dbig_E wrote: I currently reside in Ghana, the level of safety here is unbelievable compared to Nigeria

@udohhach wrote: Was in Accra last year, saw a couple of people on airpods walking on lonely roads comfortably. Bro, I was speedwalking

@Opuruchieu wrote: I live in Ghana. Been here since 2005. I've never been harassed by the Ghana Police. Not once in over 15 years. I visit Nigeria and I can't wait to leave. This is not what should be! To feel safer in another man's country, than in mine, is a disgrace to the people governing us!

@Chrisdzzy wrote: In Ghana, you can relate with a police officer and he'll listen with sense. You can be tired of your house at 2AM and decide to take a stroll and nobody will harass you. The safety in Ghana is everything we never had in Nigeria

@johnpenn007 wrote: Matter of fact, I did my BSc and MSc both in Ghana and yet Ghana feels like home than Nigeria because I feel 1000% safe in Ghana than my own country of birth… Charlie… Here is a question for y'all, what is the definition of home to you?

@christobalite wrote: Spent a year in Accra and I tell you, damn peaceful place to live in and yes I can corroborate that you can move around late in the night and no harassment from the police. They stop you politely, ask necessary questions and you're on your way…

@AdexbabaD wrote: My dear since i relocated to Ghana in 2017 I have never seen police officers flaunt AK47, no harrassament. I'm a musician, when i return from events late night 1am I still say hi to Ghana police at check points and they are superbly well dressed. Oloshi ni Olopa naija.

@OshahonDZL wrote: I've said it on this app before, the first time I was in Ghana, the only reason I came back to Nigeria was because of work. If I'd fully developed skills for remote work as at then, nothing would have brought me back. Went for a 10 day course with office colleagues.

@Nsikan wrote: Yes oooo Ghana is so peaceful and safe.. I could get home by 2am and no one will harass you.. but naija.. eiii u re finished. I reside here in good fate..no issue at all…

@Kingiso wrote: No jokes, the first time I saw Ghana Police and they stopped us on our way back from a road trip, they actually were polite, both male & female cops. We were a group of young people from different races, blacks & whites. No pressures, no intimidation; cops just doing their jobs.
Follow Glitz Empire across our social channels, on Facebook, Twitter and Instagram
Share your views in the comments below Click & Join Our Telegram Channel