"SUGARCANE" by Camidoh racks over 180 million views on TikTok
Camidoh deserves credit for the ample ground he is breaking for his new song "SUGARCANE". Stream here: https://lnk.to/Sugarcane
The song, which was launched in 2021 to a thunderous reaction from fans around the country, continues to reign supreme on notable charts and social media, becoming one of the internet's most utilized tunes. Featuring Nigeria's record producer, Phantom, "SUGARCANE" is currently attaining its viral smash status with the aid of a TikTok challenge tagged, "Sugarcane challenge", that has now seen the song rack over 180 million views worldwide.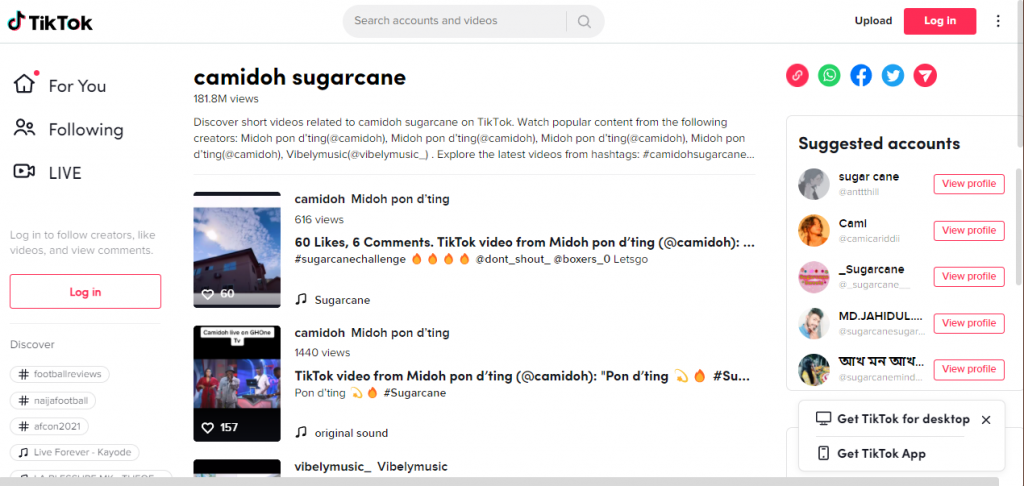 Camidoh will make an appearance on this week's edition of The McBrown Kitchen (a Ghanaian television program hosted by actor Nana Ama Mcbrown on United Television) to promote the song — SUGARCANE — while showing how skilled he is at cooking his favorite dishes — local.
"SUAGRCANE" is the first single off the Ghanaian musical genius' forthcoming album "L.I.T.A". Stream here: https://lnk.to/Sugarcane
The ecstatic Afrobeats love song with elements of highlife essentials features Phantom, an elite Nigerian record producer, and shows the Ghanaian artiste more at ease than ever, exhibiting his lyrical dexterity by flexing in his mother tongue-EWE-and pidgin English. In the groovy feel song Camidoh shows off his vocal prowess with the catchy hook.
The enthralling track demonstrates a powerful message from the heart, and the vocalist demands perfect love clarity from a potential love interest.
Instagram: Camidoh Facebook: Camidoh Twitter: Camidoh
Featured image credits/Courtesy of Twins Don't Beg via Camidoh/Instagram
Follow Glitz Empire across our social channels, on Facebook, Twitter and Instagram
Share your views in the comments below Click & Join Our Telegram Channel
Akwaaba Festival 2022 Soon – DailyGuide Network
Akumaa Mama Zimbi
Akwaaba Festival, an event being organised to promote Ghanaian cultural heritage through the exhibition of textiles, music, food bazaar, among others, will take place from August 4 to 6 at the National Theatre in Accra.
The three-day festival, according to the organisers, will showcase various aspects of the Ghanaian culture, as well as tourist sites in the country.
It will also give opportunity to participants to exhibit their products to promote trade, exposure and relationships.
The festival will also support the government's efforts in revamping the arts, culture and entertainment industry, and assist the promotion of tourism business, while deepening confidence in made-in-Ghana products.
It will also feature performances of cultural groups, a fashion show dubbed, 'Wear Ghana Fashion show', highlife music performances, and Miss Akwaaba '22 pageant show.
Exhibitors will be provided with tents at a fee to showcase paintings, woodworks, artifacts, beads, drums, clothes, as well as food and beverages.
This was made known by the organisers at the official launch, which was attended by a number of personalities from the creative industry.
Some of the creative arts industry personalities who graced the launch and were also unveiled as brand ambassadors included Gyedu Blay Ambolley, Joyce Akumaa Dongotey-Padi, popularly known as Akumaa Mama Zimbi, and Patricia Bani.
Follow Glitz Empire across our social channels, on Facebook, Twitter and Instagram
Share your views in the comments below Click & Join Our Telegram Channel
'I Was Hoping To Win Highlife Award'
Kuami Eugene
Hiplife/afrobeat artiste and songwriter, Eugene Kwame Marfo, known on stage as Kuami Eugene, has revealed he was expecting to win the Highlife Artiste of the Year and Collaboration of the Year awards at the 2022 Vodafone Ghana Music Awards.
According to him, he was featured on many songs which were hits in the year under review, therefore was expecting at least one of the songs to win the Collaboration of the Year.
"It wasn't even my songs. These were songs that I was featured on. Look at the songs that I was featured on, from 'Yeeko' to 'Biibi Besi' to 'Abodie', and none of those songs had an award. But then, again, it's VGMA, and we have limited power when it comes to VGMA," he told Hitz FM in an interview.
For the Highlife Artiste of the Year category, Kuami Eugene explained that in the year under review, he had embarked on a journey of championing highlife music.
"I have been championing highlife for some time now, but whoever took it also deserves it because they have also been working as well," Kuami Eugene said.
Despite not taking home an award on May 7, when the event was held, Kuami Eugene says he was not disappointed.
"I have never been disappointed. It's like somebody saying, 'I want to loan you money' and they wake up and say 'I don't think I can loan you my money anymore.' Somebody's award, if he says I will give it to someone else, I can't fault that person (sic)," the musician explained.
'I Was Hoping To Win Highlife Award'
Follow Glitz Empire across our social channels, on Facebook, Twitter and Instagram
Share your views in the comments below Click & Join Our Telegram Channel