MD of Ghana Airports Company sacked
Yaw Kwakwa, the managing director of Ghana Airports Company Ltd (GACL), has been sacked with reasons yet to be made known
A letter dated 4 February 2022 and signed by Kwaku Ofori Asiamah, the Minister of Transport, said: "His Excellency the President of the Republic, per letter No OPS127/22/104 dated January 2022, has directed that the appointment of Mr Yaw Kwakwa as the managing director of the Ghana Airports Company Limited be terminated."
Ghana Airports Company Ltd has been in the news recently following a back and forth with McDan Aviation over the launch of the private jet services company and permission to operate at Kotoka International Airport (KIA).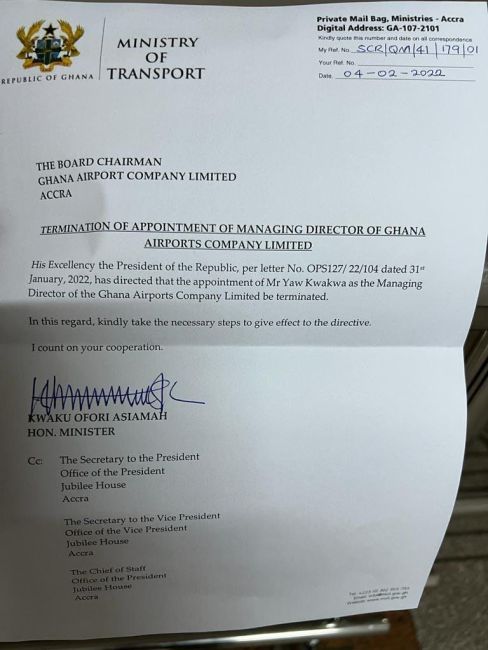 Follow Glitz Empire across our social channels, on Facebook, Twitter and Instagram
Share your views in the comments below Click & Join Our Telegram Channel
Mobile Money Transaction Recorded GH¢76.2bn In January 2022
Mobile Money transaction in the first month (January) of 2022 stood at GH¢76.2 billion, the Bank of Ghana has revealed in its Summary of Economic and Financial Data.
This is Mobile Money higher than the GH¢67.9 billion recorded in January 2021, but lower than GH¢82.9 billion recorded in December 2021.
Base on the trend of Mobil Money transaction in 2021, one cannot conclude that there has been a decline in Mobile Money transaction, as a result of the anticipated approval of the Electronic Transaction Levy.
In terms of Mobile Money Interoperability, GH¢2.107 billion was recorded in January 2022, higher than the ¢906 million registered in January 2021.
The registered Mobile Money Accounts also stood at 48.4 million in January 2022, up from 48.3 million in December 2021.
Undoubtedly, Mobile Money remained the biggest payment solution in the country with an estimated GH¢905.1 billion transactions recorded in 2021.
According to data from the Bank of Ghana, the value of mobile money transactions in January, February, March, April, May, June, July, August, September, October, November and December 2021 were estimated at ¢67.1 billion, GH¢67.9 billion, GH¢82.3 billion, GH¢83.8 billion, GH¢86.5 billion, GH¢89.1 billion, GH¢99.1 billion, GH¢81.8 billion, GH¢71 billion, GH¢80.0 billion, GH¢86.1 billion and GH¢82.9 billion respectively.
Follow Glitz Empire across our social channels, on Facebook, Twitter and Instagram
Share your views in the comments below
Click & Join Our Telegram Channel