Black Sherif announced for Yam Carnival 2022, UK
After debuting in Clapham Common last year, Yam Carnival is back in SW4 this August with another huge celebration of Black culture from around the world.
Yam Carnival is a celebration of Black culture from across the globe. Scheduled for Saturday 27 August, the line-up is stacked with artists across Afrobeats, hip-hop, and R&B, with Wizkid headlining and the likes of Naira Marley, CKay, Flavour, ShaSimone, Fally Ipupa, Gabzy, Black Sherif and more hitting the stages throughout the day.
Yam Carnival is also adding a new Piano People stage featuring the biggest names in the South African Amapiano scene. As well as the music, the fest will feature street food from around the world including African-influenced traders and chefs from around London so you defo won't be going hungry here.
Tickets go on pre-sale at 10am on 2nd February with general sale beginning at 1pm the same day.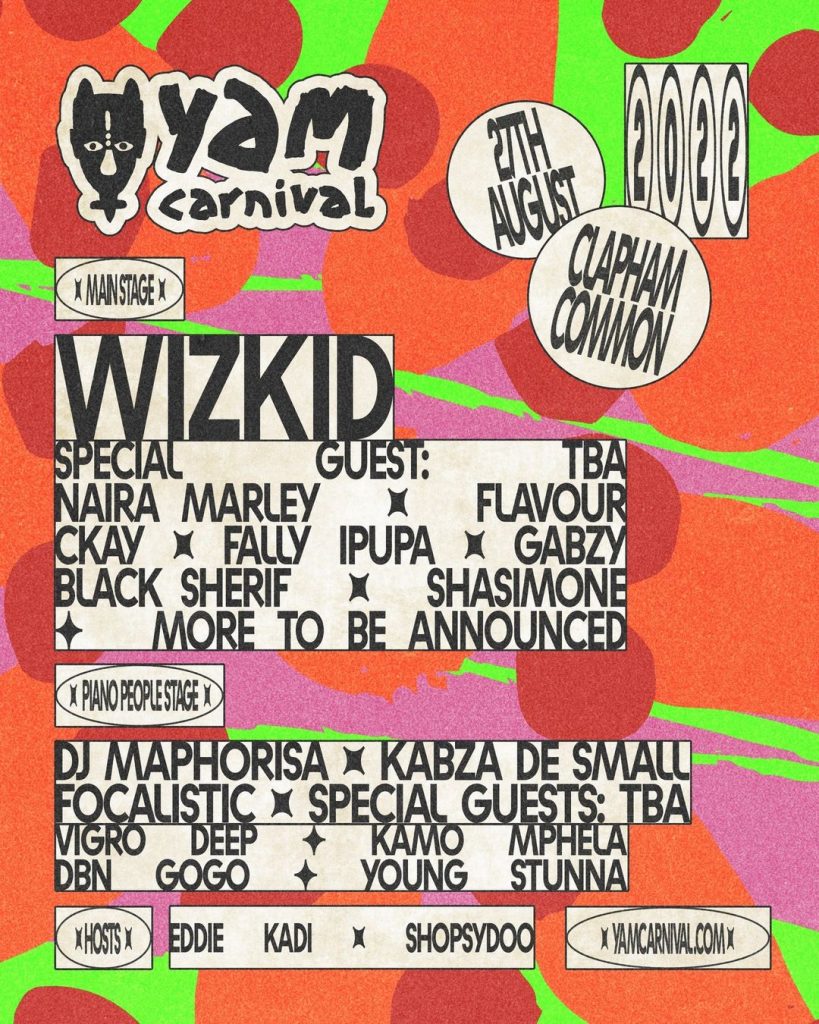 Follow Glitz Empire across our social channels, on Facebook, Twitter and Instagram
Share your views in the comments below
Click & Join Our Telegram Channel
Tornado Trolls Afia Over Warrant Of Arrest
Nana Tornado
Nana Tornado, who is a known rival of showbiz personality Afia Schwarzenegger, has been trolling her since reports of her alleged warrant of arrest went viral.
A Tema High Court had last week sentenced Afia to a ten-day jail sentence for contempt over comments she and Mr Logic passed on a lawsuit that Chairman Wontumi filed against her.
Tornado seems to be happy about what is happening to his one-time friend.
In an Instagram post, he shared a screenshot of a chat someone had sent him with a link to Afia's arrest in the chat.
"WHERE IS ASIBOLANGA," he wrote in the caption.
Also in a video he shared on Instagram, he praised Chairman Wontumi for taking action.
"Today is the happiest day of my life. If they say 'Happiest Day', I Tornado, if they ask me when is the happiest day of my life, I will say today is (sic)," he said.
"Ghanaians do you remember in some time past, Afia Schwarzenegger sat on United Showbiz to defame Chairman Wontumi, Ashanti Regional Minister? Chairman Wontumi. Chairman, if you say can, you still will find a way to deliver. Chairman wherever you are, I salute you, Sir (sic)," he added.
Follow Glitz Empire across our social channels, on Facebook, Twitter and Instagram
Share your views in the comments below Click & Join Our Telegram Channel
Pornography Destroyed My Marriage With Kim Kardashian – Kanye West
Kim Kardashian and Kanye West
American rapper, Kanye West, has revealed what destroyed his marriage with his estranged wife, Kim Kardashian.
The ex-couple recently reached a divorce settlement months after their separation.
Since their split, the couple has been in the news over issues of property and custody of their children.
But court documents filed last week, in Los Angeles superior court, through their attorneys, said they had reached an agreement as they asked the judge to approve their agreed terms.
Kanye, who will now pay $200,000 monthly as child support to Kim, with the duo having joint custody of the kids, said pornography destroyed his home.
"The use of porn destroyed my family, but Jesus will heal everything.
"Remove any and all forms of pornography from Twitter and every platform. Pornography is the product of pedophilia. When grown men look at porn they are watching someone's daughter relive trauma for money," he tweeted on Sunday afternoon.
Follow Glitz Empire across our social channels, on Facebook, Twitter and Instagram
Share your views in the comments below Click & Join Our Telegram Channel